01 October 2022
Jeremy Boulton Wins 2022 IFAC Handa Australian Singing Competition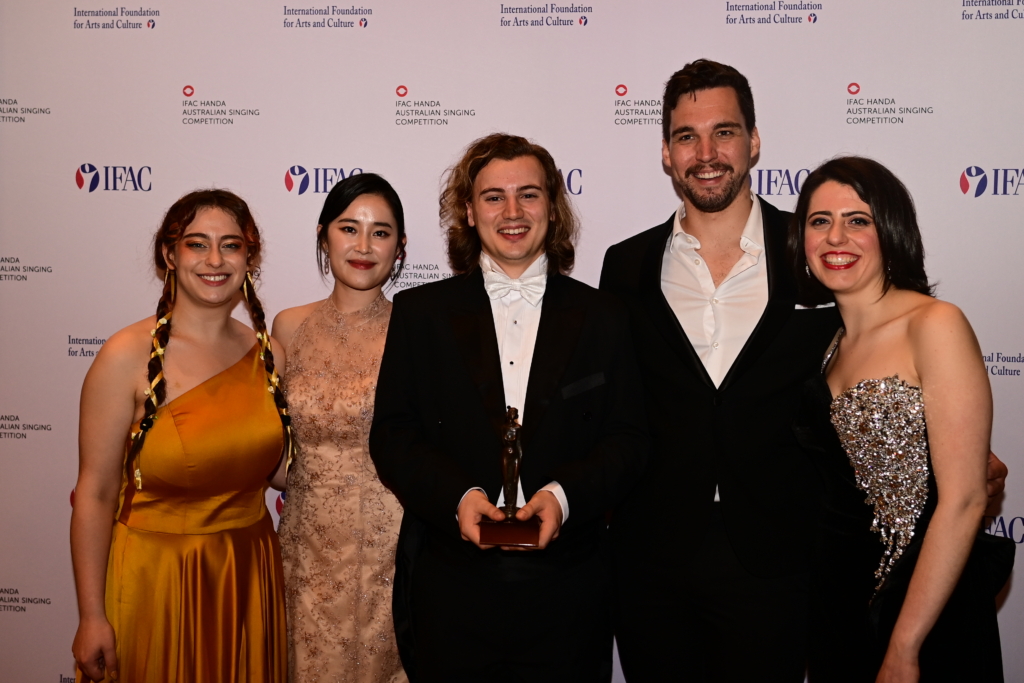 On Saturday 1 October at the Concourse Concert Hall, Chatswood, five classical and opera singers battled it out for a suite of generous prizes & opportunities in the 40th-birthday presentation of IFAC Handa Australian Singing Competition in the presence of His Excellency General the Honourable David Hurley AC DSC (Retd) Governor-General of the Commonwealth of Australia and Her Excellency Mrs Linda Hurley.
This year's winner was Jeremy Boulton a 23-year-old baritone from New South Wales. Jeremy gave a standout performance singing "Or dove fuggo io mai" fromI Puritani by Vincenzo Bellini and "Questo amor, vergogna mia"from Puccini's lesser known work, Edgar. In his winner's speech, Jeremy noted that his singing journey began when he took singing lessons at only 6 years old with 2010 Marianne Mathy Scholarship Winner, soprano, Rachel Bate.
In addition to the Marianne Mathy Scholarship valued at $30,000 Jeremy also received the inaugural Nicole Car Prize, a cash prize of $6,250 to fund travel to and from Paris that also provides the opportunity to meet with international soprano Nicole Car in Paris and receive mentoring sessions from her.
The four other singers competing on Saturday night were 27-year-old mezzo soprano Kristin Astouroghlian from Victoria; 26-year-old bass Jake Bigwood from WA; 25-year-old soprano Billie Tumarkin from Victoria; and 26-year-old soprano, Younji Yi from NSW. All four took home impressive prizes designed to support their singing careers including:
Kristin Astouroghlian
Canadian Vocal Arts Institute Scholarship
• Canadian Vocal Arts Institute Scholarship
o Nell Pascall Award
Jake Bigwood
Billie Tumarkin
Royal Northern College of Music Award
Younji Yi
Merenda Legacy Prize
MOST Audience Choice Prize
All Finalists Received
The Opera Australia Orchestra conducted by Maestro Vladimir Fanshil accompanied the Finalists. Through the International Foundation for Arts and Culture, Dr Haruhisa Handa contributes to many important causes around the world, and since 1997 has given financial assistance to this Competition. It is through I.F.A.C.'s generous support that the Finalists were able to be accompanied by the world-renowned Opera Australia Orchestra.
In an exciting new format, the competitive section of the evening was hosted by Maestro Fanshil whose witty and enthusiastic banter kept the proceedings moving in style. The Compere for the presentations and prize giving was Camille Merčep.
Special Guest performer on the night was Australian soprano, Eleanor Lyons, who was a Finalist in the Competition in 2010. Eleanor enchanted the audience with her moving rendition of "Io son l'umile ancella" by Cilèa and brought the concert hall to life with her stirring performance of "Heia, heia in den Bergen" from the German opera Csardasfürstin by Kalman.
The National Adjudicator was celebrated counter-tenor and Managing Director of Arts Management, Graham Phttps://www.artsmanagement.com.au/about-staff.htmlushee, who was joined by fellow judges acclaimed soprano, Cheryl Barker AO; esteemed conductor, Brian Castles-Onion AM; baritone and Associate Professor: Vocal Studies and Opera at University of Sydney, Michael Halliwell; and renowned soprano, Noëmi Terracini-Nadelmann.
The ASC is Australasia's richest competition featuring the Marianne Mathy Scholarship, 'The Mathy', which is regarded as the most prestigious award given to a young opera singer. Since 1982 the IFAC Handa Australian Singing Competition has awarded more than $3 million in prizes received by over 3,000 singers.