2023 Marianne Mathy Scholarship Winner
Emmanuel Fonoti-Fuimaono
The 2023 IFAC Handa Australian Singing Competition Final was held on 31 August at The Concourse Concert Hall.
Emmanuel Fonoti-Fuimaono was named the winner of the Marianne Mathy Scholarship after his stunning performances of "Dies Bildnis ist bezaubernd schön" from Mozart's Die Zauberflöte , and "Ah leve toi soleil" from Roméo et Juliette by Gounod. He was accompanied by the Opera Australia Orchestra conducted by Maestro Vladimir Fanshil.
At the 2023 IFAC Handa Australian Singing Competition Emmanuel won: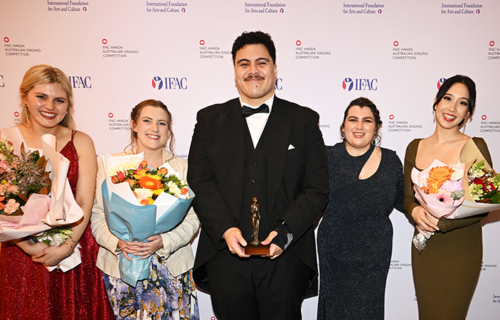 The Marianne Mathy Scholarship ('THE MATHY')
AUD $30,000 to assist with a program of study and/or singing activity

Emmanuel also received:
1. Audition Prize from Lyric Opera of Chicago's Ryan Opera Center: an opportunity to audition for Lyric Opera of Chicago's professional artist-development program, The Patrick G. and Shirley W. Ryan Opera Center.
2. Lili Ussher Portrait Prize: a painting of the winner in concert dress.
3. Oral History Award: a taped interview by oral historian Diana Ritch will be recorded and retained within the Oral History Collection of the National Library of Australia.
4. The Mathy: a limited-edition Drago Marin Cherina sculpture presented by Music & Opera Singers Trust Ltd (MOST®).
5. The WinkiPop Media Prize: photographic prints of the winner at the Finals Concert.
Congratulations to Our Other Prize Winners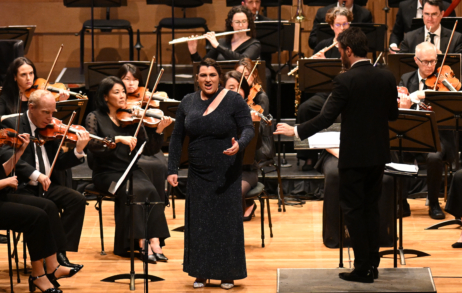 Michaela Cadwgan
Michaela was awarded:
MOST® Audience Prize
Saluzzo Opera Academy Scholarship
Merenda Travel Prize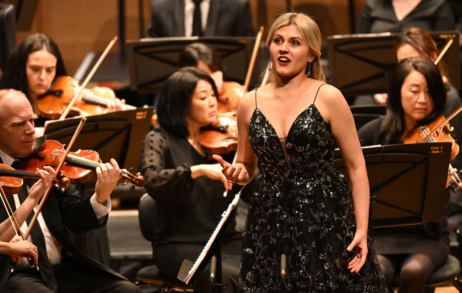 Cassandra Doyle
Cassandra was awarded:
Canadian Vocal Arts Institute Scholarship
Nell Pascall Award
Zeke Solomon Prize
Nicole Car Prize
Ellena Hicks
Ellena was awarded:
Royal Northern College of Music Award
Pasqualina Lipari Prize
Yvette Keong
Yvette was awarded:
Merenda Legacy Prize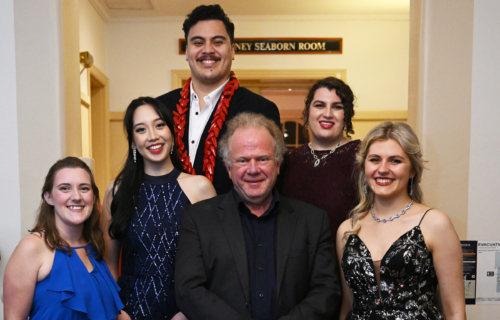 Adjudicators are continually impressed by the high standard overall, and the exceptional technical ability and maturity displayed by these young musicians.
Michaela Cadwgan
Soprano, 25, NZ
Wellington based soprano Michaela Cadwgan completed her BMus(Hons) in 2020 with First Class Honours under the tutelage of Dr. Margaret Medlyn, Wade Kernot, Dr. Jenny Wollerman and Bruce Greenfield, alongside completing a BA in German and Italian at Victoria University of Wellington.
She is an alumna of the New Zealand Opera School which she attended in January 2020. In 2019 she performed the title role of Suor Angelica in the NZSM Puccini double bill and in recent years, has collaborated as soloist with New Zealand Symphony Orchestra (NZSO at Te Papa 2020), Wellington Orchestra (Midsummer Night's Dream, and the New Zealand premiere of Schumann's Scenes from Faust), Kapiti Concert Orchestra, and is a member of both the New Zealand Opera Chorus and Wellington Opera Chorus. 
Michaela has won the Wellington Regional Aria Competition (2021), and in November of 2022 Michaela was awarded runner-up at The Lockwood New Zealand Aria final.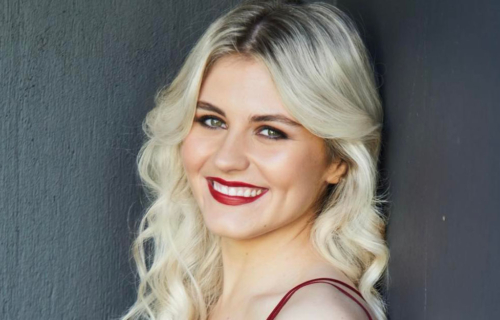 Cassandra Doyle
Mezzo Soprano, 22, NSW
Cassandra Doyle is a mezzo-soprano in her final year of a Bachelor of Music (Performance) at the Sydney Conservatorium of Music, studying voice with Maree Ryan AM. A graduate of the Conservatorium High School, Cassandra has been a recipient of the Patricia Bell Grant, Patricia Long Scholarship and George Henderson Travelling Scholarship, Istituto Italiano di Cultura Award (IFAC Handa Australian Singing Competition, 2022) and awarded 2nd Prize in the Sydney International Song Prize (JSRB Foundation, 2022).
Her performed roles include Hänsel in Hänsel und Gretel (Humperdinck), Cherubino in Le nozze di Figaro (Mozart), Ino in Semele, Irene in Theodora (Handel) and Madame Frida in Max and Moritz (Draguns). Her concert soloist repertoire includes Requiem Op. 48 (Fauré), Rückert-Lieder (Mahler), Messiah (Handel), Requiem in D minor (Mozart), Ascension Oratorio BWV 11 (J.S. Bach), Magnificat RV. 611 (Vivaldi), Messe di Minuit (Charpentier), Petit Messe Solenelle (Rossini), Stabat Mater (Pergolesi), Requiem Op.9 (Duruflé), Lamentationes Jeremiae Prophetae(Duranté) and Nelson Mass (Haydn).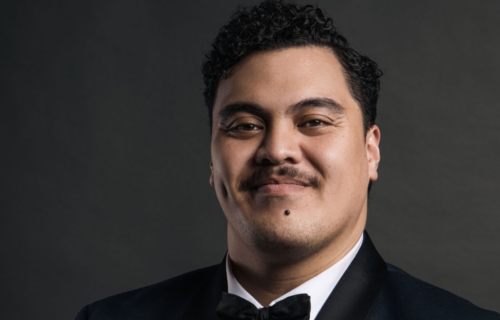 Emmanuel Fonoti-Fuimaono
Tenor, 25, NZ
Emmanuel Fonoti-Fuimaono is a twenty-five-year-old Samoan tenor from Flaxmere, Hastings.
Emmanuel was part of a youth initiative called "Project Prima Volta" in high school. After learning through PPV, he continued singing at the University of Waikato. He is currently completing his Masters' at the University of Waikato under the new programme called Te Pae Kōkako – The Aotearoa New Zealand Opera Studio.
Emmanuel attended the New Zealand Opera School in Whanganui in 2019, 2020, 2021 and 2022, where he was awarded the DMMF Award and the Guy and Susie Haddleton Scholarship. Emmanuel won the Lockwood New Zealand Aria Competition and made the Lexus Song Quest Finals winning the Dame Kiri Te Kanawa Scholarship for Potential. Earlier this year, he won the inaugural Tarling Aria Competition in Auckland.
Emmanuel played the role of Malcolm in New Zealand Opera's production of Macbeth and also the role of Tupaia in Tim Finn's Ihitai 'Avei'a – The Star Navigator.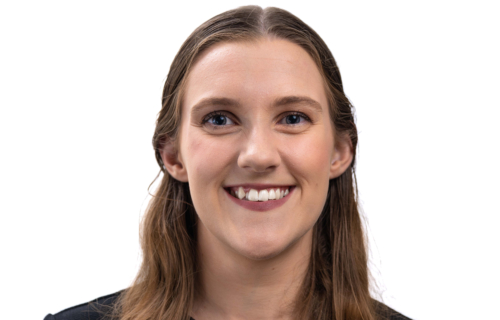 Ellena Hicks
Mezzo Soprano, 23, NSW
Ellena is currently studying a Master of Music Studies (Opera Performance) with Dr. Rowena Cowley. In 2023, she will make her role debut as Ottone in  L'incoronazione di Poppea. She has performed the roles of Secrecy, Mopsa and Summer in Purcell's The Fairy Queen. She was an alto scholar at St Stephen's Uniting Church. Her solo performances include Leonard Bernstein's song cycle I Hate Music with the Orange Youth Orchestra and an excerpt from Manuel de Falla's El Amor Brujo in the Spanish Music Festival Encuentros Espanoles 2022. She has been excited to returned home to Orange to perform as the alto soloist in Beethoven's Choral Fantasia with the Orange Symphony Orchestra and Handel's Messiah with Allegri Singers and Orange Regional Conservatorium. She has also performed as an alto soloist in Mozart's Requiem with the Sydney Conservatorium Big Choir and Handel's Messiah with Radio Community Chest in Sydney's Town Hall.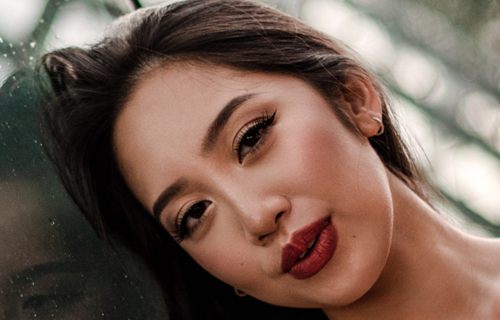 Yvette Keong
Soprano, 25, NSW
In 2020 as a response to the Covid-19 outbreak, Music & Opera Singers Trust Ltd. (MOST)established the online singing competition, ASC@Home, for singers over the age of 18 from around the world.
ASC@Home was run entirely online and supported stay-at-home measures in force around the world by requiring all entries to be recorded in a home environment by a solo singer. To help as many people to get involved as possible, and to provide no barrier for any talented singer to enter, there is no entry fee, nor any charge to vote in the Competition. Singers simply needed to fill out an entry form, record a video entry and share it on YouTube. All entries were judged by an internationally-renowned industry professional who chose the winner in their category. Cash prizes of USD$1,000 were awarded to first place winners in each of the four categories: Classical and Opera; Musical Theatre; Contemporary (Rock & Pop); and, Jazz. An additional $500USD went go to the winner of the audience-choice vote.
Previous Winners & Finalists
Winner - Jeremy Boulton, BARITONE, NSW
Finalist - Kristin Astouroghlian, MEZZO SOPRANO, VIC
Finalist - Jake Bigwood, BASS, WA
Finalist - Billie Tumarkin, SOPRANO, VIC
Finalist - Younji Yi, SOPRANO, NSW
Winner - Manase Latu, TENOR, NZ
Finalist - Bianca Bacchiella, SOPRANO, QLD
Finalist - Josi Ann Ellem, SOPRANO, NSW
Finalist - Rebecca Hart, MEZZO SOPRANO, NSW
Finalist - Samson Setu, BASS BARITONE, NZ
Winner - Zoe Drummond, SOPRANO, NSW
Finalist - Cleo Lee-McGowan, SOPRANO, VIC
Finalist - Katherine McIndoe, SOPRANO, UK
Finalist - Pasquale Orchard, SOPRANO, NZ
Finalist - Tristan Entwistle, BARITONE, NSW
Winner - Filipe Manu, TENOR, NZ
Finalist - Damian Arnold, TENOR, NSW
Finalist - Daniel Carison, BARITONE, VIC
Finalist - Paull-Anthony Keightley, BASS BARITONE, WA
Finalist - Shikara Ringdahl, MEZZO SOPRANO, QLD
Winner - Nicholas Tolputt, COUNTER TENOR, NSW
Finalist - Morgan Balfour, SOPRANO, NSW
Finalist - Eliza Boom, SOPRANO, NZ
Finalist - Jarvis Dams, BARITONE, NZ
Finalist - Sarah Wang, SOPRANO, NSW
Winner - Maximilian Riebl, COUNTER TENOR, VIC
Finalist - Damian Arnold, TENOR, NSW
Finalist - Rebecca Gulinello, SOPRANO VIC
Finalist - Jeremy Kleeman, BASS BARITONE, VIC
Finalist - Benson Wilson, BARITONE, NZ
Winner - Isabella Moore, SOPRANO, NZ
Finalist - Kate Amos, SOPRANO, VIC
Finalist - Samantha Clarke, SOPRANO, WA
Finalist - Corrine Cowling, SOPRANO, WA
Finalist - Anna Voshege, SOPRANO, VIC
Winner - Jade Moffat, MEZZO SOPRANO, QLD
Finalist - Hannah Dahenburg, SOPRANO. VIC
Finalist - Alexander Knight, BARITONE, NSW
Finalist - Edward Laurenson, BARITONE, NZ
Finalist - Danita Weatherstone, SOPRANO, NSW
Winner - Anna Dowsley, MEZZO SOPRANO,
Finalist - Thomas Atkins, TENOR
Finalist - Charlotte Betts-Dean, MEZZO SOPRANO
Finalist - Jeremy Kleeman, BASS BARITONE
Finalist - Tabatha McFadyen, SOPRANO
Winner - Emma Moore, SOPRANO
Finalist - Naomi Johns, SOPRANO
Finalist - Morgan Pearse, BASS BARITONE
Finalist - Gérard Schneider, TENOR
Finalist - Bryony Williams, SOPRANO
Winner - Rachel Bate, SOPRANO
Finalist - Kiandra Howarth, SOPRANO
Finalist - Eleanor Lyons, SOPRANO
Finalist - Ryan Sharp, BASS BARITONE
Finalist - Kang Wang, TENOR
Winner - Sam Roberts-Smith, BARITONE
Finalist - Hadleigh Adams, BASS BARITONE
Finalist - Jade Moffat, MEZZO SOPRANO
Finalist - Samuel Sakker, TENOR
Finalist - Lachlan Scott, BASS
Winner - Sitiveni Talei, BARITONE
Finalist - Nicole Car, SOPRANO
Finalist - Sky Ingram, SOPRANO
Finalist - Michael Lampard, BARITONE
Winner - Emily Blanch, SOPRANO
Finalist - Natalie Aroyan, SOPRANO
Finalist - Mary-Jean O'Doherty, SOPRANO
Finalist - Helen Sherman, MEZZO SOPRANO
Finalist - Victoria Wallace, MEZZO SOPRANO
Winner - Duncan Rock, BARITONE
Finalist - Lauren Easton, MEZZO SOPRANO
Finalist - Andrew Finden, BARITONE
Finalist - James Homann, BASS BARITONE
Finalist - Michael Lampard, BARITONE
Winner - Anita Watson, SOPRANO
Finalist - Lucinda-Mirikata Deacon,SOPRANO
Finalist - Mylinda Joyce, SOPRANO
Finalist - Derek Welton, BARITONE
Finalist - Carmen Young, SOPRANO
Winner - Emma Pearson, SOPRANO
Finalist - Andrew Goodwin, TENOR
Finalist - Andrew Moran, BARITONE
Finalist - Paul O'Neill, TENOR
Finalist - Barbara Zavros, SOPRANO
Winner - Jessica Pratt, SOPRANO
Finalist - Tanith Bryce, SOPRANO
Finalist - Mark Fowler, TENOR
Finalist - David Hansen, COUNTER TENOR
Finalist - Melinda van der Meulen, SOPRANO
Finalist - Elena Xanthoudakis, SOPRANO
Winner - Katharine Tier, MEZZO SOPRANO
Finalist - Brad Cooper, TENOR
Finalist - Celeste Lazarenko, SOPRANO
Finalist - Gilliam Ramm, SOPRANO
Finalist - Caroline Wenborne, SOPRANO
Winner - Rejieli Shepherd-Paulo, SOPRANO
Finalist - Lorina Gore, SOPRANO
Finalist - Alexander Lewis, BARITONE
Finalist - Dominica Matthews, MEZZO SOPRANO
Finalist - Katrina Waters, MEZZO SOPRANO
Winner - Rachelle Durkin, SOPRANO
Finalist - Joshua Bloom, BARITONE
Finalist - Martene Grimson, SOPRANO
Finalist - Jocelyn Hickey, SOPRANO
Finalist - Spencer Silby-Ainuutuimaseve, TENOR
Winner - Janette Zilioli, SOPRANO
Finalist - Adrian Dwyer, TENOR
Finalist - Blake Fischer, BARITONE
Finalist - Sally McHugh, SOPRANO
Finalist - Melinda Parsons, SOPRANO
Winner - Göknur Ray, SOPRANO
Finalist - Caroline Chown, SOPRANO
Finalist - Daniella Ehrlich, MEZZO SOPRANO
Finalist - Blake Fischer, BARITONE
Finalist - Michael Smallwood, TENOR
Winner - Alexandra Sherman, MEZZO SOPRANO
Finalist - Spencer Silby, BARITONE
Finalist - Marija Stojakovic, SOPRANO
Finalist - Rohan Thatcher, BARITONE
Finalist - Leon Warnock, BARITONE
Winner - Rebecca Nash, SOPRANO
Finalist - Joshua Bloom, BARITONE
Finalist - Leslie Flanagan, BARITONE
Finalist - Shelli Gilhome, MEZZO SOPRANO
Finalist - Sarah Hills, SOPRANO
Winner - Natalie Christie, SOPRANO
Finalist - Leanne Kenneally, SOPRANO
Finalist - Anthony Elek, TENOR
Finalist - Katherine Rekaris, SOPRANO
Finalist - Joslyn Rechter, MEZZO SOPRANO
Winner - David Quah, TENOR
Finalist - Anthony Elek, TENOR
Finalist - Natalie Jones, SOPRANO
Finalist - Emma Lysons, SOPRANO
Finalist - Lisa Russell, SOPRANO
Finalist - Anna Ryberg, MEZZO SOPRANO
Winner - Amelia Farrugia, SOPRANO
Finalist - Tobias Cole, COUNTER TENOR
Finalist - Sarah Hills, SOPRANO
Finalist - Sally-Anne Russell, MEZZO SOPRANO
Finalist - Christopher Saunders, TENOR
Winner - Jason Barry-Smith, BARITONE
Finalist - Angus Wood, BARITONE
Finalist - Rodney Gilchrist, SOPRANIST
Finalist - Lotte Latukefu, MEZZO SOPRANO
Finalist - Christopher Saunders, TENOR
Winner - Stuart Skelton, TENOR
Finalist - Richard Sims, BASS
Finalist - Tiffany Speight, SOPRANO
Finalist - Jeremy Vinogradov, BARITONE
Winner - Christina Wilson, MEZZO SOPRANO
Finalist - Janelle Colquhoun, SOPRANO
Finalist - Annabella Redman, SOPRANO
Winner - Clare Gormley, SOPRANO
Finalist - Helen Donaldson, SOPRANO
Finalist - Maria Pollicina, SOPRANO
Finalist - Linda Thompson, SOPRANO
Winner - Joanna Cole, SOPRANO
Finalist - Penelope Brister, SOPRANO
Finalist - Clare Gormley, SOPRANO
Finalist - Daniel Sumegi, BASS
Winner - Paul Whelan, BASS
Finalist - Bronwyn Clark, MEZZO SOPRANO
Finalist - Anne Fisch, SOPRANO
Finalist - Michael Martin, BARITONE
Finalist - Daniel Sumegi, BASS
Winner - Fiona Janes, SOPRANO
Finalist - Glenn Flavin, BASS
Finalist - Sharon Prero, SOPRANO
Finalist - Margaret Schindler, SOPRANO
Finalist - Ian Vayne, BARITONE
Winner - David Lemke, BARITONE
Finalist - Julian Anderton, SOPRANO
Finalist - Donna Balson, SOPRANO
Finalist - Roxane Hislop, MEZZO SOPRANO
Finalist - Michael Howard, TENOR
Finalist - San-Ky Kim, TENOR
Winner - Miriam Gormley, SOPRANO
Finalist - Pauline Dwyer, SOPRANO
Finalist - Fiona Maconaghie, SOPRANO
Finalist - Gregory Tomlinson, TENOR
Winner - Jeffrey Black, BARITONE
Finalist - John Antoniou, BARITONE
Finalist - Louise Camens, SOPRANO
Finalist - Miriam Gormley, SOPRANO
Finalist - Min Ok Choi, SOPRANO
Finalist - Deborah Riedel, MEZZO SOPRANO
Finalist - Margaret Schindler, SOPRANO
Winner - Nicola Waite, SOPRANO
Finalist - Jeffrey Black, BARITONE
Finalist - Christopher Bogg, TENOR
Finalist - Lisa Gasteen, SOPRANO
Finalist - David O'Keeffe, BARITONE
Finalist - Min Ok Choi, SOPRANO