2017 Winner: Filipe Manu
Tenor
New Zealand
The 2017 IFAC Handa Australian Singing Competition was held on 15 July at The Concourse Concert Hall in Sydney.
Filipe Manu was named the winner of the Marianne Mathy Scholarship after his stunning performances of Ah mes amis; Pour mon âme and Pastorello d'un povero armento accompanied by the Sydney Symphony Orchestra conducted by Dr. Nicholas Milton.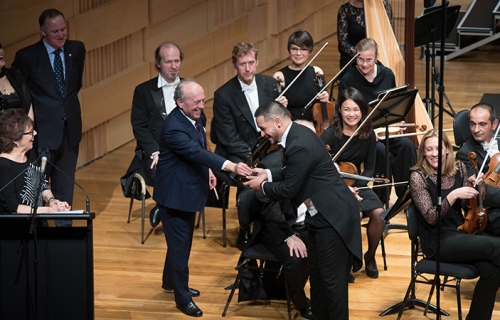 At the 2017 IFAC Handa Australian Singing Competition Filipe Manu won:

The Marianne Mathy Scholarship ('THE MATHY')
AUD $30,000 to assist with a program of study and/or singing activity
The winner of The Mathy will also receive:
1. Audition Prize from Lyric Opera of Chicago's Ryan Opera Center: an opportunity to audition for Lyric Opera of Chicago's professional artist-development program, The Patrick G. and Shirley W. Ryan Opera Center, in Chicago. Date to be mutually agreed upon; singer responsible for travel and lodging.
2. Fine Music 102.5 Recording Session - One-hour studio recording from Fine Music 102.5.
3. Lili Ussher Prize Portrait painting of the winner in concert dress.
4. Oral History Award Taped interview by oral historian Diana Ritch will be recorded and retained within the Oral History Collection of the National Library of Australia.
5. The Mathy Limited edition Drago Marin Cherina sculpture presented by Music & Opera Singers Trust Ltd (MOST®).

Filipe received a Bachelor of Music (BMus), majoring in Classical Performance at the University of Waikato under the tutelage of Dame Malvina Major. Filipe's accolades include:
Runner-up in the Lexus Song Quest
Recording on Dame Kiri Te Kanawa's Album of Maori Songs
Sir Edmund Hillary Scholar
Gina Sanders Trophy Winner
Performing Arts Competitions Association of New Zealand Inc (PACANZ) – National Performer of the Year – Vocal Section
In September 2017, Filipe will start his studies at the Guildhall School of Music in London in the Opera Studies stream where he will learn from Yvonne Kenny.
2016 Marianne Mathy Scholarship Winner, Nicholas Tolputt
Our finalists demonstrate the promising future and continued excellence of Australian music.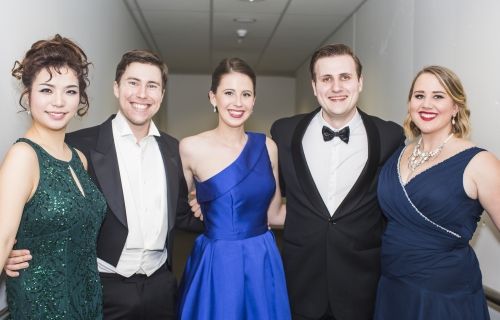 Adjudicators are continually impressed by the high standard overall, and the exceptional technical ability and maturity displayed by these young musicians.
Previous Winners & Finalists
Winner - Filipe Manu
Finalist - Damian Arnold
Finalist - Daniel Carison
Finalist - Paull-Anthony Keightley
Finalist - Shikara Ringdahl
Winner - Nicholas Tolputt
Finalist - Morgan Balfour
Finalist - Eliza Boom
Finalist - Jarvis Dams
Finalist - Sarah Wang
Winner - Maximilian Riebl
Finalist - Damian Arnold
Finalist - Rebecca Gulinello
Finalist - Jeremy Kleeman
Finalist - Benson Wilson
Winner - Isabella Moore
Finalist - Kate Amos
Finalist - Samantha Clarke
Finalist - Corrine Cowling
Finalist - Anna Voshege
Winner - Jade Moffat
Finalist - Hannah Dahenburg
Finalist - Alexander Knight
Finalist - Edward Laurenson
Finalist - Danita Weatherstone
Winner - Anna Dowsley
Finalist - Thomas Atkins
Finalist - Charlotte Betts-Dean
Finalist - Jeremy Kleeman
Finalist - Tabatha McFadyen
Winner - Emma Moore
Finalist - Naomi Johns
Finalist - Morgan Pearse
Finalist - Gérard Schneider
Finalist - Bryony Williams
Winner - Rachel Bate
Finalist - Kiandra Howarth
Finalist - Eleanor Lyons
Finalist - Ryan Sharp
Finalist - Kang Wang
Winner - Sam Roberts-Smith
Finalist - Hadleigh Adams
Finalist - Jade Moffat
Finalist - Samuel Sakker
Finalist - Lachlan Scott
Winner - Sitiveni Talei
Finalist - Nicole Car
Finalist - Sky Ingram
Finalist - Michael Lampart
Winner - Emily Blanch
Finalist - Natalie Aroyan
Finalist - Mary-Jean O'Doherty
Finalist - Helen Sherman
Finalist - Victoria Wallace
Winner - Duncan Rock
Finalist - Lauren Easton
Finalist - Andrew Finden
Finalist - James Homann
Finalist - Michael Lampard
Winner - Anita Watson
Finalist - Lucinda-Mirikata Deacon
Finalist - Mylinda Joyce
Finalist - Derek Welton
Finalist - Carmen Young
Winner - Emma Pearson
Finalist - Andrew Goodwin
Finalist - Andrew Moran
Finalist - Paul O'Neill
Finalist - Barbara Zavros
Winner - Jessica Pratt
Finalist - Tanith Bryce
Finalist - Mark Fowler
Finalist - David Hansen
Finalist - Melinda van der Meulen
Finalist - Elena Xanthoudakis
Winner - Katharine Tier
Finalist - Brad Cooper
Finalist - Celeste Lazarenko
Finalist - Gilliam Ramm
Finalist - Caroline Wenborne
Winner - Rejieli Shepherd-Paulo
Finalist - Lorina Gore
Finalist - Alexander Lewis
Finalist - Dominica Matthews
Finalist - Katrina Waters
Finalist - Rachelle Durkin
Finalist - Joshua Bloom
Finalist - Martene Grimson
Finalist - Jocelyn Hickey
Finalist - Spencer Silby-Ainuutuimaseve
Winner - Janette Zilioli
Finalist - Adrian Dwyer
Finalist - Blake Fischer
Finalist - Sally McHugh
Finalist - Melinda Parsons
Winner - Göknur Ray
Finalist - Caroline Chown
Finalist - Daniella Ehrlich
Finalist - Blake Fischer
Finalist - Michael Smallwood
Winner - Alexandra Sherman
Finalist - Spencer Silby
Finalist - Marija Stojakovic
Finalist - Rohan Thatcher
Finalist - Leon Warnock
Winner - Rebecca Nash
Finalist - Joshua Bloom
Finalist - Leslie Flanagan
Finalist - Shelli Gilhome
Finalist - Sarah Hills
Winner - Natalie Christie
Finalist - Leanne Kenneally
Finalist - Anthony Elek
Finalist - Katherine Rekaris
Finalist - Joslyn Rechter
Winner - David Quah
Finalist - Anthony Elek
Finalist - Natalie Jones
Finalist - Emma Lysons
Finalist - Lisa Russell
Finalist - Anna Ryberg
Winner - Amelia Farrugia
Finalist - Tobias Cole
Finalist - Sarah Hills
Finalist - Sally-Anne Russell
Finalist - Christopher Saunders
Winner - Jason Smith
Finalist - Jason Barry-Smith
Finalist - Rodney Gilchris
Finalist - Lotte Latukefu
Finalist - Christopher Saunders
Winner - Stuart Skelton
Finalist - Richard Sims
Finalist - Stuart Skelton
Finalist - Tiffany Speight
Finalist - Jeremy Vinogradov
Winner - Christina Wilson
Finalist - Janelle Colquhoun
Finalist - Annabella Redman
Winner - Clare Gormley
Finalist - Helen Donaldson
Finalist - Maria Pollicina
Finalist - Linda Thompson
Winner - Joanna Cole
Finalist - Penelope Brister
Finalist - Clare Gormley
Finalist - Daniel Sumegi
Winner - Paul Whelan
Finalist - Bronwyn Clark
Finalist - Anne Fisch
Finalist - Michael Martin
Finalist - Daniel Sumegi
Winner - Fiona Janes
Finalist - Glenn Flavin
Finalist - Sharon Prero
Finalist - Margaret Schindler
Finalist - Ian Vayne
Winner - David Lemke
Finalist - Julian Anderton
Finalist - Donna Balson
Finalist - Roxane Hislop
Finalist - Michael Howard
Finalist - San-Ky Kim
Winner - Miriam Gormley
Finalist - Pauline Dwyer
Finalist - Fiona Maconaghie
Finalist - Gregory Tomlinson
Winner - Jeffrey Black
Finalist - John Antoniou
Finalist - Louise Camens
Finalist - Miriam Gormley
Finalist - Min Ok Choi
Finalist - Deborah Riedel
Finalist - Margaret Schindler
Winner - Nicola Waite
Finalist - Jeffrey Black
Finalist - Christopher Bogg
Finalist - Lisa Gasteen
Finalist - David O'Keeffe
Finalist - Min Ok Choi
Finalist - Nicola Waite