Introducing the 2018 Finalists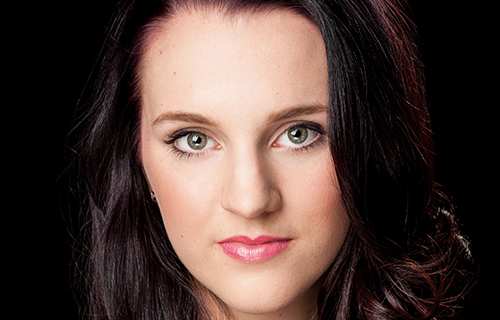 Zoe Drummond
Soprano, 25, VIC
Soprano Zoe Drummond is currently completing an Artist Masters of Opera Performance at the Guildhall School of Music and Drama, London. Zoe was honoured to be awarded the 2015, 2016 and 2017 Melba Trust Scholarship,  the Opera Foundation for Young Australians 2016 Lady Fairfax New York Scholarship, and second place in the 2016 Mietta Song Competition. Recent performances include Susan in A Dinner Engagement (Guildhall Opera Studio), Giroflé/Girofla in Two Weddings One Bride (Opera Australia), Architects Daughter in The Eighth Wonder (Opera Australia), Nightingale in The Sleeping Beauty (Victorian Opera) and covered Soeur Constance in Dialogues des Carmélites (Guildhall Opera Studio).
She also enjoyed performing with the Opera Australia Chours for the 2017 Summer and Winter seasons, and international tours with The Seven Sopranos. Zoe is looking forward to performing Despina in Cosi fan tutte and Titania in A Midsummer Nights Dream with the Guildhall Opera Studio.
Tristan Entwistle
Baritone, 24, NSW
Sydney-born baritone Tristan Entwistle completed a Masters of Music Studies (Opera Performance) at the Sydney Conservatorium of Music in 2017 under Ms Maree Ryan, where he was awarded the Bud Brown Memorial and Patricia Lucas Music Achievement Scholarships. Tristan is a founding member and artistic advisor of the Sydney-based youth company, Operantics, and has worked with them as a performer, director, conductor and chorusmaster since their maiden production in 2015.
His operatic roles include Escamillo (Carmen), Papageno (Die Zauberflöte), Guglielmo (Così fan tutte), Leporello (Don Giovanni), Nardo (La Finta Giardiniera), Barone Douphol (La Traviata), Dottor Grenvil (La Traviata), Dr Falke (Die Fledermaus), Elder McLean (Susannah), Edmund Bertram (Mansfield Park), Old Yue (Chang'E and the Moon), Giove (La Calisto), the Drunken Poet/Corydon (The Fairy Queen), and Giuseppe Palmieri (The Gondoliers).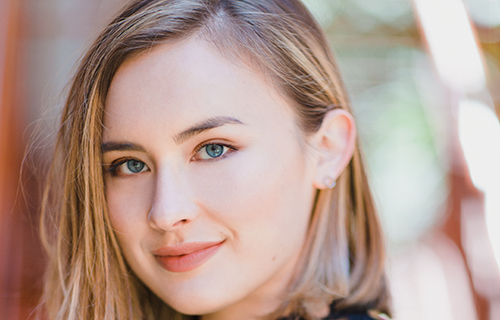 Cleo Lee-McGowan
Soprano, 23, VIC
Cleo has been the proud recipient of the Joseph Sambrook Opera Scholarship with Melba Opera Trust since 2017. She performed the role of Gretel in Victorian Opera's Hansel and Gretel in both the 2018 season and the 2017 Victorian regional tour. Cleo was a soloist with the Tasmanian Symphony Orchestra in Mendelssohn's A Midsummer Night's Dream. She has featured as a soloist on ABC Classic FM multiple times, including in celebration of International Women's Day. Cleo holds a Bachelor of Music with Honours from the University of Melbourne, majoring in Performance.
Cleo received a number of scholarships during her tertiary studies, including Runner-Up of the Acclaim Awards Sleath Lowrey Scholarship, the Athenaeum Club Female Solo Vocalist Prize, and the Muriel Cheek, Mona McCaughey, and Florence Bradford Scholarships, and was joint winner of the Harold Fisher Memorial Opera Scholarship. In 2017 Cleo was a finalist in Opera Scholars Australia's Scholar of the Year competition.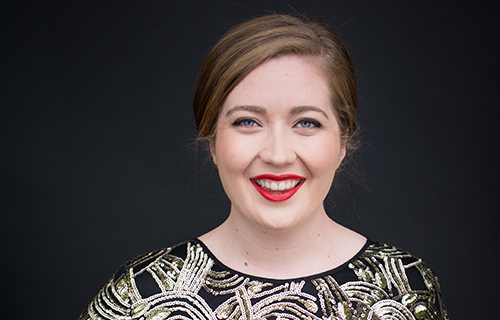 Katherine McIndoe
Soprano, 24, NZ
Katherine is a soprano from New Zealand, studying for a Masters in Vocal Studies at the Guildhall School of Music and Drama, under Yvonne Kenny. She holds a Bachelor of Music with First Class Honours from the New Zealand School of Music, and was a Dame Malvina Major Emerging Artist with New Zealand Opera for 2015/16. She has been selected for development programmes with the Dame Kiri Te Kanawa Foundation and the Dame Malvina Major Foundation, was a Britten-Pears Young Artist at the Aldeburgh Festival, and won the Wellington Aria Competition in 2015.
She recently made her Barbican debut with the small role of Sister Catherine in the UK première of Jake Heggie's Dead Man Walking with the BBC Symphony Orchestra. Her roles include the Governess in The Turn of the Screw, Tatyana in Eugene Onegin, Giulietta in I Capuleti e I Montecchi, and Marcellina in Le Nozze di Figaro.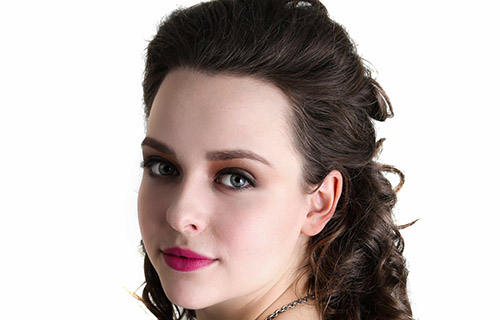 Pasquale Orchard
Soprano, 21, NZ
Pasquale graduated with First Class Honours in Classical Voice in 2017, under the guidance of Jenny Wollerman and Margaret Medlyn. She is currently studying for her Masters of Musical Arts in Classical Voice at Wellington's New Zealand School of Music. Her goal is to ultimately further her studies abroad. Pasquale is a keen dancer and holds her NZAMD Licentiate diplomas for Jazz, Tap and Hip-Hop, and her Trinity LTCL diploma in Performance Arts. In 2017 Pasquale debuted as Mercedes in Carmen with NZ Festival Opera, starred as the Vixen in NZSM's The Cunning Little Vixen, played Susanna in Eternity Opera's The Marriage of Figaro, and sang in the NZ Opera Chorus for Carmen.
She is an alumni of both the IFAC Handa NZ Singing School and the NZ Opera School. Pasquale is passionate about all aspects of performance, living for the stage and strives to captivate her audience.
2017 Winner: Filipe Manu
Tenor
New Zealand
The 2017 IFAC Handa Australian Singing Competition was held on 15 July at The Concourse Concert Hall in Sydney.
Filipe Manu was named the winner of the Marianne Mathy Scholarship after his stunning performances of Ah mes amis; Pour mon âme and Pastorello d'un povero armento accompanied by the Sydney Symphony Orchestra conducted by Dr. Nicholas Milton.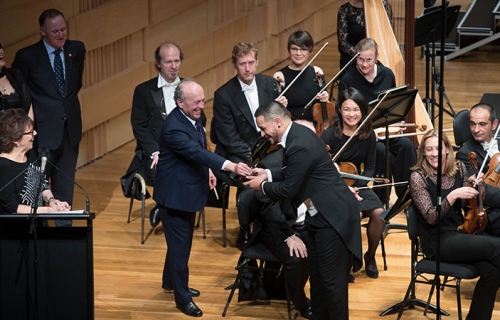 At the 2017 IFAC Handa Australian Singing Competition Filipe Manu won:

The Marianne Mathy Scholarship ('THE MATHY')
AUD $30,000 to assist with a program of study and/or singing activity
The winner of The Mathy will also receive:
1. Audition Prize from Lyric Opera of Chicago's Ryan Opera Center: an opportunity to audition for Lyric Opera of Chicago's professional-artist development program, The Patrick G. and Shirley W. Ryan Opera Center, in Chicago. Date to be mutually agreed upon; singer responsible for travel and lodging.
2. Fine Music 102.5 Recording Session - One-hour studio recording from Fine Music 102.5.
3. Lili Ussher Prize Portrait painting of the winner in concert dress.
4. Oral History Award Taped interview by oral historian Diana Ritch will be recorded and retained within the Oral History Collection of the National Library of Australia.
5. The Mathy Limited edition Drago Marin Cherina sculpture presented by Music & Opera Singers Trust Ltd (MOST®).

Filipe received a Bachelor of Music (BMus), majoring in Classical Performance at the University of Waikato under the tutelage of Dame Malvina Major. Filipe's accolades include:
Runner-up in the Lexus Song Quest
Recording on Dame Kiri Te Kanawa's Album of Maori Songs
Sir Edmund Hillary Scholar
Gina Sanders Trophy Winner
Performing Arts Competitions Association of New Zealand Inc (PACANZ) – National Performer of the Year – Vocal Section
In September 2017, Filipe will start his studies at the Guildhall School of Music in London in the Opera Studies stream where he will learn from Yvonne Kenny.
2016 Marianne Mathy Scholarship Winner, Nicholas Tolputt
Our finalists demonstrate the promising future and continued excellence of Australian music.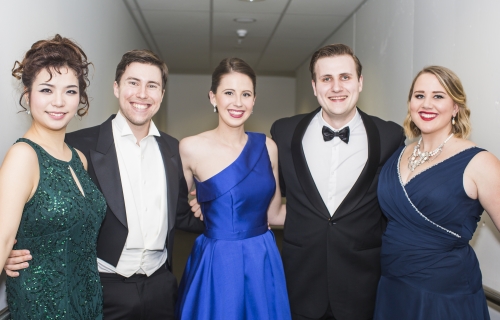 Adjudicators are continually impressed by the high standard overall, and the exceptional technical ability and maturity displayed by these young musicians.
Previous Winners & Finalists
Winner - Filipe Manu, TENOR, NZ
Finalist - Damian Arnold, TENOR, NSW
Finalist - Daniel Carison, BARITONE, VIC
Finalist - Paull-Anthony Keightley, BASS BARITONE, WA
Finalist - Shikara Ringdahl, MEZZO SOPRANO, QLD
Winner - Nicholas Tolputt, COUNTER TENOR, NSW
Finalist - Morgan Balfour, SOPRANO, NSW
Finalist - Eliza Boom, SOPRANO, NZ
Finalist - Jarvis Dams, BARITONE, NZ
Finalist - Sarah Wang, SOPRANO, NSW
Winner - Maximilian Riebl, COUNTER TENOR, VIC
Finalist - Damian Arnold, TENOR, NSW
Finalist - Rebecca Gulinello, SOPRANO VIC
Finalist - Jeremy Kleeman, BASS BARITONE, VIC
Finalist - Benson Wilson, BARITONE, NZ
Winner - Isabella Moore, SOPRANO, NZ
Finalist - Kate Amos, SOPRANO, VIC
Finalist - Samantha Clarke, SOPRANO, WA
Finalist - Corrine Cowling, SOPRANO, WA
Finalist - Anna Voshege, SOPRANO, VIC
Winner - Jade Moffat, MEZZO SOPRANO
Finalist - Hannah Dahenburg, SOPRANO
Finalist - Alexander Knight, BARITONE
Finalist - Edward Laurenson, BARITONE
Finalist - Danita Weatherstone, SOPRANO
Winner - Anna Dowsley, MEZZO SOPRANO
Finalist - Thomas Atkins, TENOR
Finalist - Charlotte Betts-Dean, MEZZO SOPRANO
Finalist - Jeremy Kleeman, BASS BARITONE
Finalist - Tabatha McFadyen, SOPRANO
Winner - Emma Moore, SOPRANO
Finalist - Naomi Johns, SOPRANO
Finalist - Morgan Pearse, BASS BARITONE
Finalist - Gérard Schneider, TENOR
Finalist - Bryony Williams, SOPRANO
Winner - Rachel Bate, SOPRANO
Finalist - Kiandra Howarth, SOPRANO
Finalist - Eleanor Lyons, SOPRANO
Finalist - Ryan Sharp, BASS BARITONE
Finalist - Kang Wang, TENOR
Winner - Sam Roberts-Smith, BARITONE
Finalist - Hadleigh Adams, BASS BARITONE
Finalist - Jade Moffat, MEZZO SOPRANO
Finalist - Samuel Sakker, TENOR
Finalist - Lachlan Scott, BASS
Winner - Sitiveni Talei, BARITONE
Finalist - Nicole Car, SOPRANO
Finalist - Sky Ingram, SOPRANO
Finalist - Michael Lampart, BARITONE
Winner - Emily Blanch, SOPRANO
Finalist - Natalie Aroyan, SOPRANO
Finalist - Mary-Jean O'Doherty, SOPRANO
Finalist - Helen Sherman, MEZZO SOPRANO
Finalist - Victoria Wallace, MEZZO SOPRANO
Winner - Duncan Rock, BARITONE
Finalist - Lauren Easton, MEZZO SOPRANO
Finalist - Andrew Finden, BARITONE
Finalist - James Homann, BASS BARITONE
Finalist - Michael Lampard, BARITONE
Winner - Anita Watson, SOPRANO
Finalist - Lucinda-Mirikata Deacon,SOPRANO
Finalist - Mylinda Joyce, SOPRANO
Finalist - Derek Welton, BARITONE
Finalist - Carmen Young, SOPRANO
Winner - Emma Pearson, SOPRANO
Finalist - Andrew Goodwin, TENOR
Finalist - Andrew Moran, BARITONE
Finalist - Paul O'Neill, TENOR
Finalist - Barbara Zavros, SOPRANO
Winner - Jessica Pratt, SOPRANO
Finalist - Tanith Bryce, SOPRANO
Finalist - Mark Fowler, TENOR
Finalist - David Hansen, COUNTER TENOR
Finalist - Melinda van der Meulen, SOPRANO
Finalist - Elena Xanthoudakis, SOPRANO
Winner - Katharine Tier, MEZZO SOPRANO
Finalist - Brad Cooper, TENOR
Finalist - Celeste Lazarenko, SOPRANO
Finalist - Gilliam Ramm, SOPRANO
Finalist - Caroline Wenborne, SOPRANO
Winner - Rejieli Shepherd-Paulo, SOPRANO
Finalist - Lorina Gore, SOPRANO
Finalist - Alexander Lewis, BARITONE
Finalist - Dominica Matthews, MEZZO SOPRANO
Finalist - Katrina Waters, MEZZO SOPRANO
Winner - Rachelle Durkin, SOPRANO
Finalist - Joshua Bloom, BARITONE
Finalist - Martene Grimson, SOPRANO
Finalist - Jocelyn Hickey, SOPRANO
Finalist - Spencer Silby-Ainuutuimaseve, TENOR
Winner - Janette Zilioli, SOPRANO
Finalist - Adrian Dwyer, TENOR
Finalist - Blake Fischer, BARITONE
Finalist - Sally McHugh, SOPRANO
Finalist - Melinda Parsons, SOPRANO
Winner - Göknur Ray, SOPRANO
Finalist - Caroline Chown, SOPRANO
Finalist - Daniella Ehrlich, MEZZO SOPRANO
Finalist - Blake Fischer, BARITONE
Finalist - Michael Smallwood, TENOR
Winner - Alexandra Sherman, MEZZO SOPRANO
Finalist - Spencer Silby, BARITONE
Finalist - Marija Stojakovic, SOPRANO
Finalist - Rohan Thatcher, BARITONE
Finalist - Leon Warnock, BARITONE
Winner - Rebecca Nash, SOPRANO
Finalist - Joshua Bloom, BARITONE
Finalist - Leslie Flanagan, BARITONE
Finalist - Shelli Gilhome, MEZZO SOPRANO
Finalist - Sarah Hills, SOPRANO
Winner - Natalie Christie, SOPRANO
Finalist - Leanne Kenneally, SOPRANO
Finalist - Anthony Elek, TENOR
Finalist - Katherine Rekaris, SOPRANO
Finalist - Joslyn Rechter, MEZZO SOPRANO
Winner - David Quah, TENOR
Finalist - Anthony Elek, TENOR
Finalist - Natalie Jones, SOPRANO
Finalist - Emma Lysons, SOPRANO
Finalist - Lisa Russell, SOPRANO
Finalist - Anna Ryberg, MEZZO SOPRANO
Winner - Amelia Farrugia, SOPRANO
Finalist - Tobias Cole, COUNTER TENOR
Finalist - Sarah Hills, SOPRANO
Finalist - Sally-Anne Russell, MEZZO SOPRANO
Finalist - Christopher Saunders, TENOR
Winner - Jason Barry-Smith, BARITONE
Finalist - Angus Wood, BARITONE
Finalist - Rodney Gilchrist, SOPRANIST
Finalist - Lotte Latukefu, MEZZO SOPRANO
Finalist - Christopher Saunders, TENOR
Winner - Stuart Skelton, TENOR
Finalist - Richard Sims, BASS
Finalist - Tiffany Speight, SOPRANO
Finalist - Jeremy Vinogradov, BARITONE
Winner - Christina Wilson, MEZZO SOPRANO
Finalist - Janelle Colquhoun, SOPRANO
Finalist - Annabella Redman, SOPRANO
Winner - Clare Gormley, SOPRANO
Finalist - Helen Donaldson, SOPRANO
Finalist - Maria Pollicina, SOPRANO
Finalist - Linda Thompson, SOPRANO
Winner - Joanna Cole, SOPRANO
Finalist - Penelope Brister, SOPRANO
Finalist - Clare Gormley, SOPRANO
Finalist - Daniel Sumegi, BASS
Winner - Paul Whelan, BASS
Finalist - Bronwyn Clark, MEZZO SOPRANO
Finalist - Anne Fisch, SOPRANO
Finalist - Michael Martin, BARITONE
Finalist - Daniel Sumegi, BASS
Winner - Fiona Janes, SOPRANO
Finalist - Glenn Flavin, BASS
Finalist - Sharon Prero, SOPRANO
Finalist - Margaret Schindler, SOPRANO
Finalist - Ian Vayne, BARITONE
Winner - David Lemke, BARITONE
Finalist - Julian Anderton, SOPRANO
Finalist - Donna Balson, SOPRANO
Finalist - Roxane Hislop, MEZZO SOPRANO
Finalist - Michael Howard, TENOR
Finalist - San-Ky Kim, TENOR
Winner - Miriam Gormley, SOPRANO
Finalist - Pauline Dwyer, SOPRANO
Finalist - Fiona Maconaghie, SOPRANO
Finalist - Gregory Tomlinson, TENOR
Winner - Jeffrey Black, BARITONE
Finalist - John Antoniou, BARITONE
Finalist - Louise Camens, SOPRANO
Finalist - Miriam Gormley, SOPRANO
Finalist - Min Ok Choi, SOPRANO
Finalist - Deborah Riedel, MEZZO SOPRANO
Finalist - Margaret Schindler, SOPRANO
Winner - Nicola Waite, SOPRANO
Finalist - Jeffrey Black, BARITONE
Finalist - Christopher Bogg, TENOR
Finalist - Lisa Gasteen, SOPRANO
Finalist - David O'Keeffe, BARITONE
Finalist - Min Ok Choi, SOPRANO